ALL SET for the GRANDEST BRIDAL FAIR IN THE CENTRAL LUZON.

WEDDING DESTINATION: PAMPANGA Year 13 ONLINE BRIDAL FAIR is all set to kick-off on SEPTEMBER 1, 2021. Just visit: https://pampangaweddings.com/wdponlinebridalfair/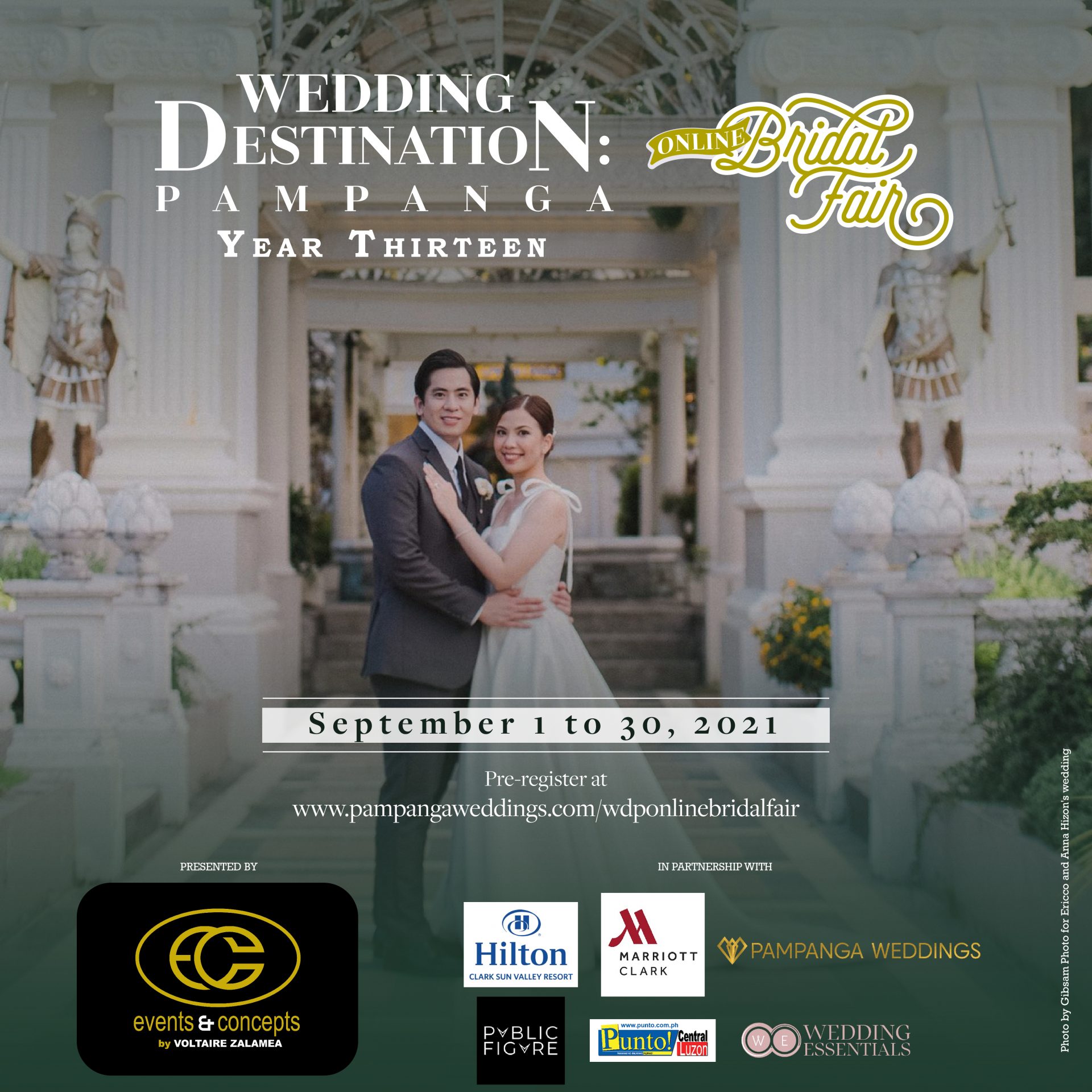 Organized by Events and Concepts by Voltaire Zalamea, Wedding Destionation: Pampanga Year 13 Online Bridal Fair gathers the most respected and most sought-after wedding suppliers and event partners in one venue to showcase their products and services and offer the best deals for soon-to-be brides and grooms.  It was so successful that even fellow event suppliers would claim "it is the only bridal fair in Pampanga worth going to."
On it's 12th year in 2020, because of the COVID-19 pandemic, Events and Concepts by Voltaire Zalamea decided to have an ONLINE version of this highly anticipated event since mass gatherings are not yet allowed.    This is a perfect opportunity for soon-to-be brides and grooms to continue planning their weddings and choose suppliers at their convenience.  
For 2021, on it's 13th year,  the ONLINE EDITION will run for 30 days , from September 1-30, 2021, giving more time for prospective clients to create their wedding dream team.  For Weddings Suppliers and Event Partners, this is the perfect opportunity to showcase their  products and services to a specific target market, 24 hours a day for the whole month of September. 
This year's edition shall also include additional features like LIVE Streaming talks and a Virtual Fashion Show featuring the creations of Pampanga's top fashion designers. 
Wedding Destination: Pampanga ONLINE BRIDAL FAIR aims to boost the wedding and events industry in the region as it one the most affected industries in this pandemic. 
The organizers believe that no matter how difficult the challenges we are facing, one thing is for sure, LOVE will never be cancelled and weddings will definitely happen.

Below are the featured suppliers for this year's Wedding Destination: Pampanga ONLINE Bridal Fair:
Photographers and Videographers:
Angulo Wedding Films
Chug Cadiogan Cinema
Creator Studio

 

Gibsam Photo

 

Public Figure by Paolo Feliciano

 

Shianne Photography

 
Fashion Designers: 
Frederick Policarpio
Glen Canlas
Jojo Macapinlac
Marlon Tuazon

 

Mich Viray of Casa Moda

 

Rich Sabinian

 

Rosette Ramos-Biag of La Casal

 
Fashion and Pictorial Stylists: 
Arvin Dizon
Geof Lagria

 

Jemi Nicdao

 
Hair and Make-up Artists: 
Georgina Gabrillo

 

Glamorais by Ais Alansalon

 

Mariah Santos

 

Metamorphosis by Malonne Pangan

 

Ralph Sapno

 

Shayne's Portfolio
Caterers: 
ADM Asuncion De Grande
Kusina ni Aling Bevang

 

LInelle's Catering

 
Banquet Halls and Hotels: 
Ardesia
Best Western Metro Clark Hotel

 

Clark Marriott Hotel

 

Grand Palazzo Royale

 

Hilton Clark Sun Valley

 

The Lakeshore

 

Quest Plus Hotel and Conference Center Clark
Cake Artists:
Caking Giant
Guilty Pleasures by Finn
Venue Stylists and Florists: 
Badang Rueda of Victorian Blooms
Blooms Events Styling by Allen and JP
Event Buddy
Plumeria by Pancho Pantig

 

Sassy by Cha

 
Lights, Sounds and Multimedia Suppliers: 
Cuatros Lights and Sounds
Sensitivity Lights and Sounds

 
Entertainment: 
Mobile Bar: 
Liquid Bar Hire Mobile Bar

 

NYC Nomad Bar

 

Invitations and Favors: 
Favour Lane

 

Florescents

 

Max and Olivia

 

The Oops Shop

 
Wedding Planner: 
Events and Concepts by Voltaire Zalamea

 
Wedding Destination: Pampanga Year 13 Online Bridal Fair is supported by Wedding Essentials Magazine, Punto Central Luzon, Pampanga Weddings, Public Figure, Clark Marriott Hotel and Hilton Clark Sun Valley.